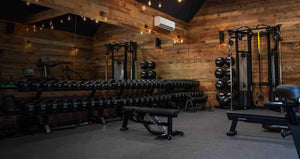 THE WORLD'S MOST TRUSTED FITNESS BRAND
Introducing Life Fitness: a synonym for excellence in the world of fitness equipment. Trusted by gym pros and home workout enthusiasts alike, Life Fitness combines innovative design with unmatched durability. Whether you're sprinting on their renowned treadmills or pushing limits with their strength training gear, this brand promises performance at its peak. Explore a collection that doesn't just meet standards but sets them.
LIFE FITNESS
CARDIO
Dive into Life Fitness Cardio, where every heartbeat counts. From the streamlined efficiency of the 3 Series to the advanced capabilities of the 5 Series, there's something tailored for every fitness enthusiast. For those seeking a professional touch at home, the Club Series+ offers the robust quality of the commercial Integrity series. Step into a world where design, durability, and performance harmoniously come together, ensuring your cardio sessions are nothing short of extraordinary.
SHOP LIFE CARDIO
Life fitness
Home Strength
Dive into elite home strength training with Life Fitness's G-Series gyms. The G2 offers a streamlined, space-efficient design ideal for versatile workouts, while the G4 boasts biomechanically-enhanced versatility for optimal muscle engagement. The pinnacle, G7, redefines home training with its dual adjustable pulleys and modular innovation. Together, they epitomize Life Fitness's legacy of quality, offering a comprehensive strength experience tailored to fitness enthusiasts of all levels.
SHOP LIFE STRENGTH
Life Fitness
Insignia Series
Premium selectorized strength equipment that combines striking visual appeal with subtle design elements that result in a natural feel and an extremely memorable experience. Insignia Series is a new standard in selectorized strength equipment.
SHOP INSIGNIA
LIFE FITNESS
Axiom Series
Axiom Series combines a modern, inviting design with simplicity of function. Low tower heights, small footprints, and single and dual function machines provide a space efficient strength circuit welcoming to all users in smaller spaces.
SHOP AXIOM
LIFE FITNESS
SIGNATURE SERIES
Discover the Life Fitness Signature Series: a blend of aesthetic appeal and optimal performance. Featuring a unique round tubing design, this strength training lineup emphasizes superior biomechanics and ergonomic comfort, providing a streamlined and efficient workout experience.
SHOP SIGNATURE
What flooring is right for my project?
If you'd like advice on flooring solutions, contact us. Our experienced, friendly and professional staff are here to help make it happen!