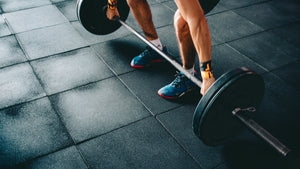 Experience the benefits of customized gym flooring
The right flooring elevates athletic performance, reduces impact and sound, and protects your equipment. We have a wide range of flooring solutions to outfit any project — explore our preferred flooring types below.
BASIC FIT
INTERLOCKING TILES
Ecore's original composition rubber fitness floor is the best and most popular solution for small facilities and home gyms, and provides an almost seamless look.
• Durable
• Affordable
• All basic fit colours available in 23" x 23" x 8mm thick interlocking tiles
• Easy to install and maintain, no glue required, do-it-yourself. Portable.
• Shock and Fade resistant, and wears well
• Slip resistant
• Moisture-resistant on a concrete slab
SHOP
BASIC FIT
ROLLS
This is Ecore's original composition rubber fitness floor and is the most popular solution for larger fitness facilities. Ecore's Basic Fit Roll permanently fixes to your gym's floor giving you a virtually seamless appearance.

• Affordable and low life cycle costs
• Ideal for high performance areas
• Can withstand rolling loads
• Fade and slip resistant
• Sound and shock absorbent
• Durable and easy to maintain
SHOP
PERFORMANCE
Performance Tiles or Rolls are best for those that want the ultimate gym flooring solution. The Performance collection addresses the full spectrum of strength and conditioning applications. It combines a vulcanized EPDM wear layer that resists scuffing and marking with a myriad of tailored base layers to create four unique products.

• Sound and shock absorbent
• Fade resistant/wears well
• Slip resistant wet or dry
• Indoor Only
SHOP
VINYL
Best for indoor courts, group fitness and dance studios, yoga areas, and other common areas or multi-use spaces. Ecore's Vinyl flooring uses a heat-welding installation process to close seams, making this surface incredibly easy to clean and hygienic.

• Slip resistant
• Able to withstand traffic
• Easy to maintain and sanitize
• Will not absorb moisture or bacteria
• High end look and feel
SHOP
TURF
Best for indoor facilities that want to take functional training to the next level.
We offer turf that is more comfortable for body contact like elbows and knees making it ideal for HIIT or Core training, and more abrasive turf options ideal for speed and agility training.

• No infill
• Indoor Only
• 5mm, 12mm, & 25mm Shock Pad Underlay Option
• 5mm foam underlayment option
• Available in Rolls or Interlocking Tile format for easy install and portability
SHOP
What flooring is right for my project?
If you'd like advice on flooring solutions, contact us. Our experienced, friendly and professional staff are here to help make it happen!