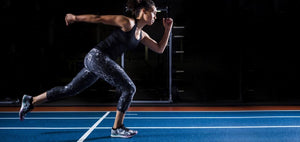 Discover Ecore International's premium rubber flooring solutions at Gym Concepts. As a leading provider of sustainable flooring, Ecore combines advanced technology with recycled materials to offer high-performance surfaces perfect for gyms, commercial spaces, and more. Their product range includes interlocking tiles, straight-edge options, rolls for rubber, and superior turf solutions. Embrace eco-friendliness without compromising on quality, and elevate your space with Ecore's innovative flooring options.
Ecore
Performance
Designed for strength training & fitness, Performance is for athletes. With eight base layers, it's made for varied activities, from light workouts to Olympic lifts. It's durable, slip-resistant, and ensures optimal traction for all skill levels.
SHOP PERFORMANCE
Ecore
Basic Fit
Basic Fit
As Ecore's "original" recycled composition rubber fitness floor, Basic Fit's durable surface sets the standard for performance, quality, and affordability.
SHOP BASIC
Ecore
Turf
Your athletes deserve flooring that supports their functional training goals. Ecore turf is engineered to prevent falls, absorb impact, and return energy to the body for peak performance.
SHOP TURF
Ecore
Vinyl
Axiom Series combines a modern, inviting design with simplicity of function. Low tower heights, small footprints, and single and dual function machines provide a space efficient strength circuit welcoming to all users in smaller spaces.
SHOP VINYL
Ecore
Accessories & Adhesives
Ecore offers essential accessories like reducers, tile connectors, and ADA ramps. Complement installations with our premium adhesives, ensuring your rubber flooring is set perfectly.
SHOP ETC
What flooring is right for my project?
If you'd like advice on flooring solutions, contact us. Our experienced, friendly and professional staff are here to help make it happen!